Dear Constant Reader,
2013 was kind of a rocky year for us. It certainly had some high points and some lows, moments that were glamourous and some that were "glamourous". Here's a little month by month guide.
January & February
We spend these months preparing for and performing The Bod of Avon, a Shakespeare-themed burlesque show. We have a lot of fun with it, but it was not without its challenges. I am often frustrated trying to learn and rehearse a new solo, a trio, a quartet, and our big 6-dancer finale. We have the luxury of 2 preview nights at Oberon, after which we were able to tweak the show a bit based on audience feedback.
The "real" show is at Naga in Central Square, a new venue for us. Every night we set up the theatre and strike it again. Annoying, but we get it down to a science and everybody pitches in. However, just before the run of shows starts the venue cancels some of our nights, having double-booked the space and deciding we would lose. Then a blizzard wipes out another weekend. Frustrating for all involved and seriously cutting into the profit margin.
March
I host the last Naked Girls Reading salon. I am terribly disappointed that the new management decided to revoke our charter just as we'd figured out how to make it all work smoothly.
The Mardi Gras Ball, postponed due to the blizzard the previous month, is rescheduled for that same night. We have a blast and feel like total rock stars.
The Expo! 7th annual! We've been working very hard on a new number, the best thing we had done to date.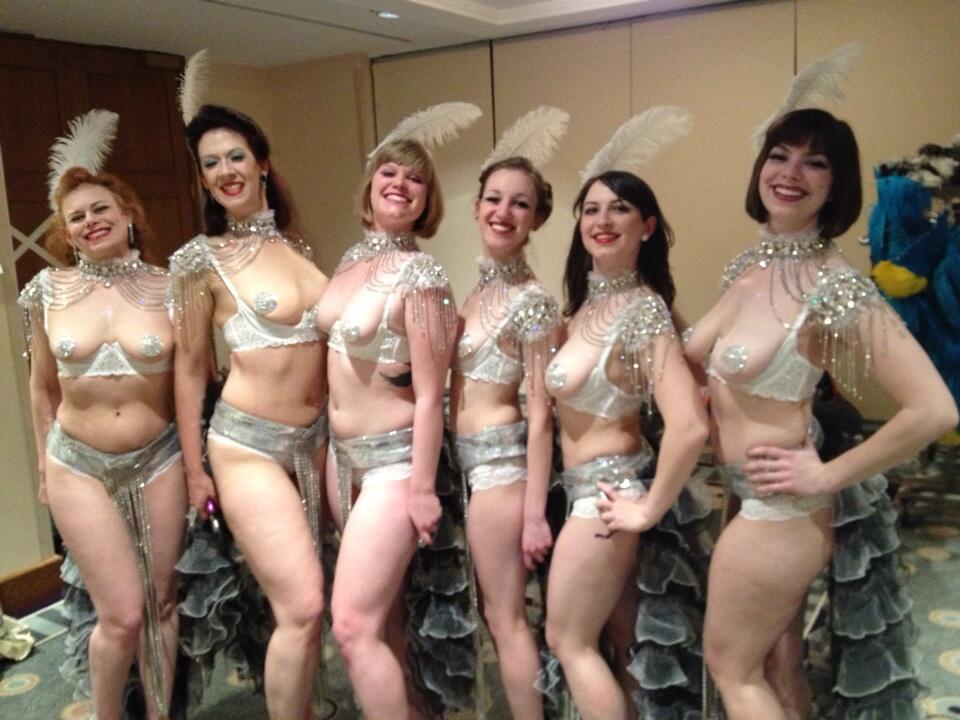 (Photo by Jo Weldon)
Sadly, there's no video. If you have any idea how to film an act that's lit only by flashlights, do let me know.
April
The debut of The Teaseday Club!
Something really bad happens in Boston, but we're all okay.
May, June, & July
We prepare for and perform The Fine Art of Burlesque, our summer touring show.

We use what we call "The Burlesque-A-Pades Model": 3 dancers plus Scratch plus a local Special Guest & stage kitten. It works really well and we only need one car and one hotel room. We have a ton of fun and perform in some new states (i.e. New Jersey and Pennsylvania). We pet a baby kangaroo. We're accused of blasphemy. We drink crème brûlée beer. We're very well received everywhere we go, however, we barely make enough to cover expenses. There are no dressing room horror stories to report.
Also, Evie leaves. We know this is coming, but it doesn't make it any easier. To complete her degree and get her license, she needs to do clinical work out of state, so she moves to New Jersey and then will be moving on to Arizona. For more than a year and a half we've been six dancers sharing a hive mind (as Betty likes to say). Now there's an Evie-shaped hole in everything. We miss her terribly.
August
We headline the Ohio Burlesque Festival. No big deal.

(Photo by Eric Paul Owens)
We work incredibly hard on our number. Betty took a duet she had created four years ago and revamped it for 4 dancers. We sweat over the choreography only to change it and change it again. Very little of the original moves are in the final product. We spend hours and hours gluing rhinestones onto our dresses, only to have such lousy lighting that there was no sparkle at all. However, we're incredibly happy with the final product. Sadly, there's no video.
Dixie Evans dies. Dixie Evans Week goes ahead, but tinged with sorrow.
September
Production for The W.R. Athskellar Cavalcade of Curiosities is in full swing. We have a band, singers, actors, aerialists, dancers, other misc. performers, &c. It's going to be the biggest and best thing we've ever done. It's like all the good parts of the previous 4 productions of The Wrathskellar wrapped up in a new story.

October
Our venue for The W.R. Athskellar Cavalcade of Curiosities hasn't been able to get the proper licenses for us to perform. We cancel all shows. We are crushed. And take the biggest financial hit yet in a year full of them. The show is too good to abandon and we will perform it some day, hopefully sooner than next October.
The Babydolls see Dita for the first time. It cheers us up a little and inspires us a lot.
November
Scratch and I go to BurlyCon. He teaches; I don't. We see old friends and make new ones.
We are invited to headline at the first-ever Vermont Burlesque Festival in January. We scramble to come up with a 5-person number, since all our good ones need 6 (or 4).
December
We present Brrrlesque, a holiday-themed show and make a few other appearances (or plan to, but there's snow). We play a couple of new venues and are likely to return to all of them.
I learn that my article on the costume exhibit I curated will be published in Berlesker: Handcrafted Literary Journal.
In Conclusion
Some good, some bad. We've continued to improve as performers and our shows just keep getting bigger and better. But money-wise, it wasn't great this year. And as much as we do this because we love it, a gal does need to pay the rhinestone bill. Everyone is excited for 2014 to be better and better. Onward, upward!
I hope your New Year is fabulous and glamourous!