Dear Constant Reader,
Happy Friday! Here in Boston it's sub-Arctic outside, but I don't care. I've got woolly leopard-print mitts to keep my hands toasty while I write to you. And tonight is the first performance of Bumps Upon a Grind, where I know our loving audience will cheer for us warmly.
Here's your tip!
Use the right needle for the job.
When you're sewing, make sure the needle you're using is appropriate to the material. The wrong size or shape needle can really screw up your project. Today I'm going to talk about machine needles. Maybe another time I'll hold forth about hand-sewing needles.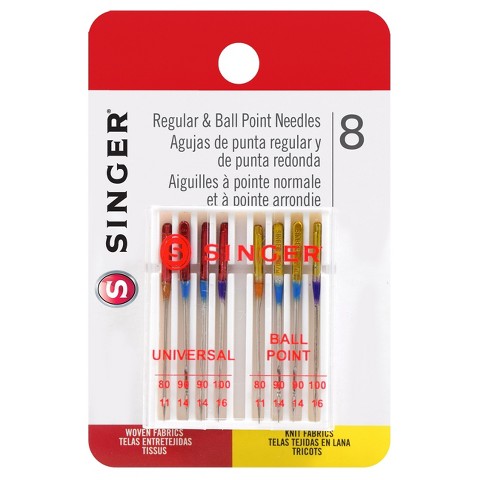 This is a really crummy picture I yanked off the Internets, but at least it shows some of the different kinds of machine needles.
They're color-coded*! Isn't that great? Orange bands are for delicate fabrics, blue bands are for medium-weight, and purple are for heavy-weight. You can also get super-light-weight (green) for those really fine sheers and super-heavy-weight (grey).
Red-topped needles are sharps for woven fabrics; yellow-topped needles are ballpoints for knits. There are also special needles for denim & canvas and for leather.
Lay in a good supply of the kind you use most because there is nothing more frustrating than breaking your last needle and seeing the project come to a grinding halt. You might be tempted to use one of the other types or sizes you have, but resist!

* This is the Singer color-code. Other brands of needles have different coding. I have a vintage Singer machine, so those are the needles I use. Singer surely doesn't pay me to endorse their brand…