Dear Constant Reader,
Our apprentice Electrix wanted to pick our brains about burlesque in London, since she's hoping to study there (wish her luck!). I remembered this book included a section on burlesque in London and then I realized I'd not given you a proper review.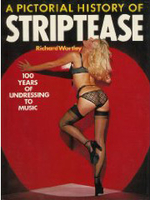 A Pictorial History of Striptease: 100 Years of Undressing to Music by Richard Wortley (1976)
This book is exactly what it promises: pages and pages of photographs of women taking (or having taken) their clothes off, plus related ephemera, like programs and advertisements. The illustrations are broken up by text on striptease, its history and evolution. Many of the pictures are full page and in color. There are plenty that are not the standard fare of burlesque books. However, as the book was published in the mid-seventies, there are a lot of contemporary photos of topless showgirls with amusing hairstyles
Thew books begins with a history of striptease from its 19th century origins to the present day. Then it looks specifically at Paris, Britain, and the United States. Paris, of course, highlights the Moulin Rouge, the Follies Bergère, and Crazy Horse, but there are photos of showgirls at other cabarets. Britain focuses on the Windmill Theatre (we never closed!) and the nightclub empire of Paul Raymond. There's also a mention of Arthur Fox in Manchester who imported many performers from the US. The US looks at the showgirls of Las Vegas and Carol Doda (and Them) among others. Tempest Storm gets a mention right on the first page.
The book also delves into striptease and nudity on film. That includes scenes like Marilyn Monroe and her flying skirt as well as actual nude scenes. This is followed by a chapter on the rivals to striptease on stage, like live sex shows, porn movies, and various topless businesses. The very last chapter is an illustrated how-to for performing your very own striptease. It pairs very nicely with Libby Jones's striptease.
It's a great look at striptease and how it was up to the mid-1970s. Some of the photos are absolutely ridiculous in sort of a wonderful way, like the woman dangling her bra above a dolphin like a herring. Some are a study in glamour. In many of the photos, the performers are more naked than burlesque performers today. In fact, in the chapter on the US, American performers are seen as quaint for wearing pasties and G-strings. My biggest wish is that the photos had been dated. I'd love to know more about some of them.
It's long out of print, but you can find it used for a reasonable price.
These writings and other creative projects are supported by my Patrons. Thank you so much! To become a Patron, go to my Patreon page. Or you can just tip me if you liked this.