Dear Constant Reader,
New book review for you!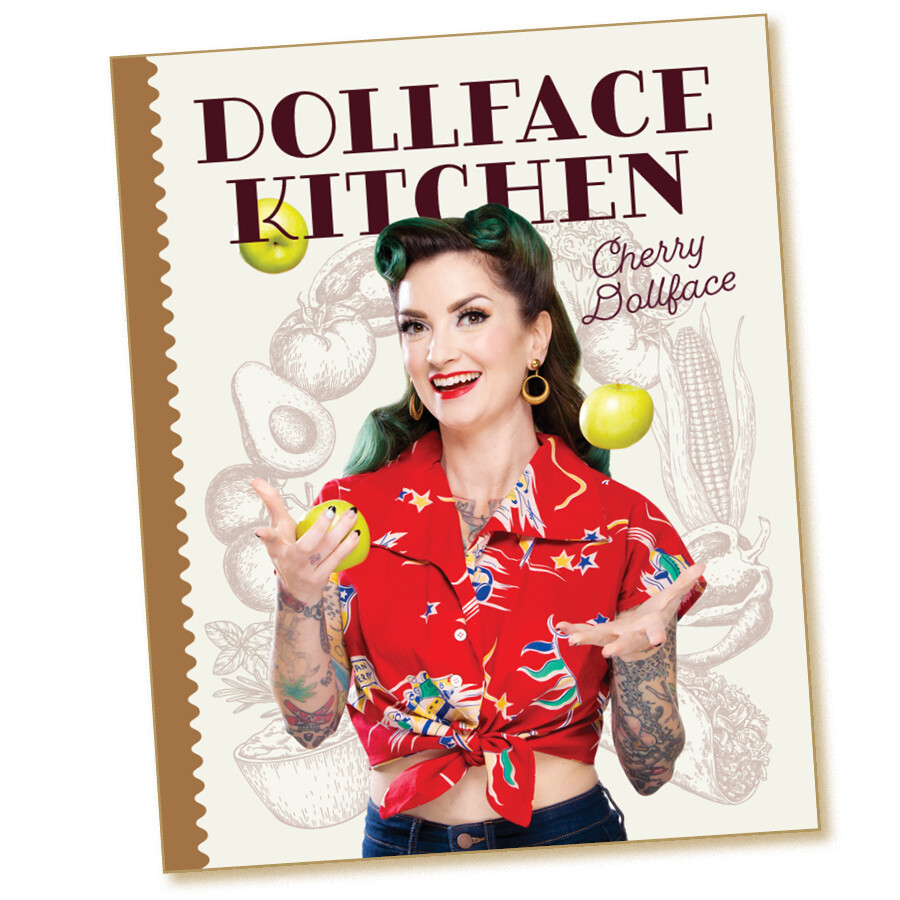 Dollface Kitchen by Cherry Dollface (2020)
This is the second book from pinup model and vintage enthusiast, Cherry Dollface. (I've had her first book since it came out and never reviewed it — must be better about that…) As you probably guessed from the title, it's a cookbook. You know how much I love cooking, especially vintage recipes! She was supposed to have a book release party at Viva, but instead it got moved to FB and IG Live. It was fun to watch her sign my book on-line, but I miss author events…
It's probably not the best timing to try to review a cookbook during lockdown, since mostly I have to look at the recipes and sigh. The book is organized into six categories, of the sort you would expect like main dishes and desserts. Each of those has three "Healthy-ish" recipes, three "Not-so-healthy", and two vintage recipes — one "weird" and one "wonderful". The vintage recipes are the sort found on boxes and cans and I'm unclear if she's actually cooked any of them. All recipes are marked if they are vegetarian, vegan, dairy-free and/or gluten-free.
As you might expect of a pin-up model, the book is full of photographs. Cherry is shown posing with food, in the kitchen, or just making faces (usually at a weird vintage recipes). There are also tempting photos of all the dishes (except some of the vintage ones). Everything looks bright and fun. I'm looking forward to trying several of these, like the carnitas tacos, baked oatmeal, and caramel apple bread pudding. I can't wait to cook for friends again!
All of Cherry's recipes have notes from her about how to change things up or her personal preferences (she doesn't like onions) in the header of the recipe. She also tells you if the recipe can be changed up to fit diet requirements, like swapping out chicken broth for veggie to make a soup vegetarian. I really like the little cartoon bubbles with another helpful tip. You know I'm all about the helpful tips… It's a very friendly book, occasionally even silly, like the recipe that starts, "Preheat oven to 450. Just kidding, this is fruit salad." She writes as though she's chatting with you, which is nice in this kind of lonely time.
I couldn't review the book without making something. The "wonderful" vintage dessert Fudge Batter Pudding had the note "If you try any of my vintage recipes…try this bad boy!" So I did. You make a simple chocolate sauce that goes in the bottom of a baking pan, then you spoon a chocolate batter on top and bake. The result is a sort of brownie with a fudgy sauce underneath it. The cake part is on the dry side (it has no eggs and only a smidge of butter and milk), so it needs the sauce. When we had it cold the next day, a little cream poured over was a nice addition. It was easy to make and can be whipped up from pantry staples, so I'll call it a win.
The book is only available from Working Class Publishing, but I think you can still get a signed copy. It may take longer to get to you, but where else do you have to go…?
These writings and other creative projects are supported by my Patrons. Thank you so much! To become a Patron, go to my Patreon page. Or you can just tip me if you liked this.