Dear Constant Reader,
Today I have for you a fascinating story of the youngest dancer in the Ziegfeld Follies, told in an equally interesting way.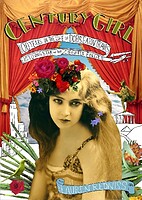 Century Girl: 100 Years in the Life of Doris Eaton Travis, Last Living Star of the Ziegfeld Follies by Lauren Redniss, 2006.
Doris was born in 1904 to a mother, who, her own show biz aspirations thwarted, was determined to make stars of her seven children. When Doris was 7, she and her sisters, Pearl and Mary, made their professional debut in The Bluebird. Adding their little brother Charlie to the cast, the Eaton children toured the country with the show, with Mary and Doris eventually taking the leads. The children were now firmly ensconced in the world of theatre and continued performing.
In 1918 Pearl was in the Ziegfeld Follies and after summer school let out, 14-year-old Doris joined the chorus. Under New York law performers had to be 16 to be in a "musical comedy", so Doris used the name Lucille Levant until she was old enough. She found her place as a specialty dancer, while Mary became the prima ballerina and Pearl performed in the racier Midnight Frolic. Even brother Charlie did comedy sketches at the Follies with Fannie Brice and W.C. Fields.
Doris began performing in silent films as well. She got married in Hollywood, but was widowed less than a year later at 19. For several years she shuttled between the films of Hollywood and the New York stage. Her mother's Manhattan apartment hosted all manner of show business luminaries, like George Gershwin and Fred Astaire, on their nights off. Everything was going splendidly for the performing Eatons, until…
…the Great Depression destroyed the lavish shows like the Follies and diminished Broadway. Ziegfeld died. There was no work for performers. Doris was even considering becoming a taxi dancer when a fortunate phone call sent her to Arthur Murray's dance studio. She became an instructor, then a promoter, and opened the first franchise, in Detroit. She wrote a dance advice column for the local paper and the number of her studios grew. Her brothers helped her run them, but unfortunately, her sisters did not join her. Their stories do not end well.
Doris met her husband, Paul Travis, through her dance studio empire, which she continued to manage, even as the couple ran a turkey farm. Ever the performer, Doris began hosting a weekly social dance show on TV in 1952. Everything was going well until social dancing died out in the 1960s. Doris extricated herself from the business and started over. Again. She and Paul moved to Oklahoma and managed a horse ranch. She went to college and graduated Phi Beta Kappa.
Doris returned to the stage where it all began in 1997. She was invited to the opening of the refurbished New Amsterdam Theatre. Five former Follies Girls attended, but Doris was the only one who could still dance. She performed "Mandy", a soft shoe number she had danced in 1919, when she shared that very stage with Eddie Cantor.
I said at the start the method of telling Doris's story was just as interesting as her life. It's like flipping through a scrap book. Every page is filled with photographs, line drawings, and newspaper clippings, illustrating Doris's life. The handwritten text wanders through the images of Doris's long life. It's probably just easier to show you.


This creative biography pays loving tribute to Doris Eaton's long life of dance. Much of it is in Doris's own words, looking back over a century. If you're only interested in the Follies, that's section II — the shows, the performers, Ziegfeld himself, and of course, the experiences of Doris and her sisters.
(Affiliate links in this post benefit the American Burlesque Collection, a 501(c)(3) non-profit)
These writings and other creative projects are supported by my 14 Patrons. Thank you so much! To become a Patron, go to my Patreon page. Or you can just tip me if you liked this.