Dear Constant Reader,
Time for another review. I'm tired of having a stack on unreviewed books on my desk!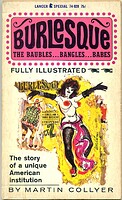 Burlesque: The Baubles…Bangles…Babes by Martin Collier (1964).
This is a little paperback, just 150 pages, printed on cheap pulp paper that's now crumbling. The only vaguely high-end thing about it is a several full page photographs and a fold-out page in color. This
"story of an unique American institution" was written when the business was limping along and its part-nostalgic, part-snarky, part-affectionate tone reflects that. The back cover promises "An under the bangles look at a dying art that still has lots of snap left!"
The book focuses on comics and strippers, presenting them in alternating chapters. The chapter titles vaguely classify the performers, but it's a thin rationale. Sherry Britton, Sally Rand, Lili St. Cyr, and Lilly Christine are profiled in a chapter called "The 'Non'-Strippers." Most of the performers profiled are still well-known today (Gypsy Rose Lee, Rose La Rose, Dixie Evans), with a few less famous, like Brandy Martin and Penny wolfe.
The most valuable parts of the book are interviews with performers, including transcribed recordings made by Ann Corio and Redd Foxx. Reading about burlesque from the lips of these legends is worth seeking out this book.
It ends with a fairly gloomy prediction about the future of burlesque — there are more strippers, but fewer talents, too many gimmicks. He does predict burlesque will still be alive in 1990, if nowhere near what it once was.
If you can find it, give it a read, but don't pay too much for a copy.
These writings and other creative projects are supported by my Patrons. Thank you so much! To become a Patron, go to my Patreon page.