Dear Constant Reader,
A book review! I know I've been remiss in writing these and I've let a huge stack of books just pile up. Today's book is not so much about burlesque as it is adjacent to burlesque.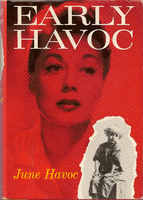 Early Havoc by June Havoc (1959)
June Havoc was Gypsy Rose Lee's little sister, the former Dainty Baby June, vaudeville sensation. She wrote two memoirs about her life in show business. Early Havoc is a bit harder to find, but Scratch used his excellent hunting skills to find a first edition, which had been signed by the author.
Early Havoc alternates chapters between June's time in vaudeville and her first dance marathon. June was a dance prodigy and from the time she could walk, her mother put her on stage. She was a vaudeville star and even made some movies. As she grew up, the act she had been performing since childhood grew stale and vaudeville declined. June's mother adamantly refused to let June have an education or any training in dance or acting. She kept her daughter frozen in childhood, unwilling to allow any change. When June was 13 (she thought she might be 16 and her forged birth certificate claimed she was 18) she was desperate to change her life and secretly married Bobby Reed, a dancer from her act. The newlyweds ran away to start a new life and double act.
It was the Great Depression. Vaudeville was dead. June realizes that between her life in show business and her mother's, let us just say, eccentric view of the child rearing, she has absolutely no idea how to behave in "normal" life. June and Bobby split up in hopes of finding work as solo performers. A $5 booking led June into the brutal world of dance marathons. She took the job at first because the promoter promised 6 meals a day. In a dance marathon, partners have to stay on the dance floor, constantly moving, for as long as possible, in this case, up to three thousand hours. The dancers only get one 11-minute rest break every hour or, later in the marathon, only every two hours. They have to keep moving during meal time and even when called up on stage to entertain the audience with a song, specialty dance, or comedy routine. The teams that stick it out to the end win a cash prize.
June is naive about the dirty dealings on the dance floor, but quickly becomes a pro, a "horse". After falling victim to tricks from her fellow participants to injure her or make her sick, she learns to keep going no matter what, to lug her sleeping partner around the dance floor, to look pathetic and weak during her time on the performance stage so as to get better "floor money" (tips). She also has to survive the sadistic stunts of the event promoters and their underhanded tactics to make as much money as possible off the backs of the desperate dancers. The marathon participants are pushed beyond exhaustion with grueling "sprints" and "grinds" and "treadmills". The crueler the events, the more audience they get.
The book ends with the conclusion of the marathon. After making it all the way through, June discovers she's been cheated out of most of her earnings and prize money. She swears she'll do just one more marathon, now that she's wise to the tricks.
What's the burlesque connection? Throughout the books, when June mentions her sister, it's to speak in awe of Louise's intellect and her beauty, but she has little talent for singing and dancing. When June first arrives in New York, desperate, her mother boasts about Louise's career and all her accomplishments, while treating June as someone she vaguely remembers meeting once upon a time. It's a shock to discover her beloved older sister is now Gypsy Rose Lee, staring in Minsky's Ada Onion from Bermuda. June is awestruck by Gypsy's beauty and stage presence. She describes watching Gypsy's famous act as Bobby gushes about her sense of humor and good looks. Gypsy herself is a distant presence, hardly noticing her little sister. However, Gypsy kindly gets June and Bobby a spot in the show doing their dance act, but they're fired after two weeks. Nothing personal — management just has to change up the show.
The whole book is less a tale of show business than a memoir of survival. June knows she's got a lot against her — raw talent but no training, little education, a selfish and manipulative mother, no support — but she's determined to make her way in the world. Her story is painful to read at times, especially her assessments of herself and her awkward interactions with "regular" people.
The book ends leaving many questions unanswered: Does she make it out of the world of marathon dances? Does she get out from under her mother's shadow? Does she find success on stage? Does she ever have a relationship with her sister? Fortunately, there's another memoir, More Havoc, published 20 years later, answers some of those questions. I'll review that one next.
One little tidbit — I was excited to realize that the last theatre Dainty June played before she escaped her mother was the Jayhawk in Topeka, KS. I'll be performing there on June 22 with Hot in Topeka as part of a fundraiser for the theatre!
These writings and other creative projects are supported by my Patrons. Thank you so much! To become a Patron, go to my Patreon page. Or you can just tip me if you liked this.